Engineers Save The World (perpetually)
(11/16/10)
warning: nerdy opening
For a project in my renewable energy sources class, my team and I built a gasifier. Not to bore with technical details; in short, burns biomass (wood/etc) in an oxygen depleted environment to produce synthetic gas or "syngas" which can be used to cook, run engines (generator, car engines etc). Specifically we built a wood gasifying stove, which gasifies…wood, and uses the gas to make heat to cook stuff. It's a fairly simple design consisting of 2 coffee cans with holes drilled in them. Looking at the finished product, it doesn't look like much — it doesn't even look like it does anything.


I guess i was expecting it to NOT work? or to not work as well as it did? It certainly impressed me at how simple the design was versus the output and benefit it provides over just burning wood for heat.
VOILA! in retrospect, we wished we bought some food to cook..
[/nerd]
(11/14/10)
Sometimes change is good, other times its bad.. Case in point:
-good: friends
-bad: prices at the fair, i swear i remember when 20$ lasted a whole night! plus food!
-unchanged: 20+ year old rides.. I remember these same rides from when I was a little kid!
So Karl and I started the night meeting Cathee and Rizza at the Jacksonville Fair. The weather was perfect for being outside. The only damper on the night was that everything at the fair is so expensive! Why!? –And the people that work there, not exactly the most inviting people you'll ever meet. But I'm not complaining, we were treated to funnel cake and got to just chill out and relax– especially me, trying to enjoy the weekend after having two tests in the same week just before.
Not too long after (and not before I took some incriminating pics 😀 ) we left to see the movie Due Date at AMC24. I really enjoyed the movie, especially the trailers for movies coming up. There are some juicy ones coming out relatively soon like Harry Potter (yes i said it!) and TRON. So ended my night, very awesome.
Of course I have an incriminating one of me, but I won't post it here 😀
(11/13/10)
First of all, happy 21st birthday to Mikey Horn, one of my good friends. I spent the first half of the night at his house finishing up the jags game and watching the opening rounds of the Pacquiao vs Margarito fight.
I ended up meeting friends at Qball to watch the Pac fight. This was definitely a memorable night because of a few factors:
1. OMG Sherwin bought a Canon 5D mk II ??(on my dream camera list) and hes letting me play with it?! YES!
2. friends I haven't seen in FOREVER
3. Dennys.
So I basically took Sherwin's camera and played with it the whole night. Epic times with friends. One highlight of the night was when PacMan was fighting Margarita, all the filipinos would be shouting random filipinio dishes.. I'm not sure why but it was just hilarious.
These are pics from the 5D mk II, the quality sucks because I had to get them from facebook but the IQ of the 5D is epic. I have to say, though, I like the 7D's AF better.
PICS!
at mikeys:

at Qball:

at dennys: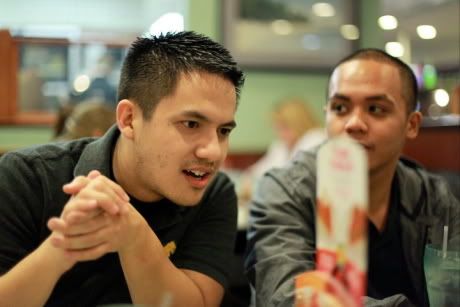 ——————————————-
EDM songs of the week:
so i just recently found this guy from a podcast, i love it.
electro house:
Porter Robinson & Lazy Rich (feat Sue Cho) – Hello (Radio Edit)

break beats:
BSD – This Is It
Categories:

engineering / tech / automotive, general, photography
cathee, fair, gasification, jermain, karl, movie, nick, rizza, sherwin, wood